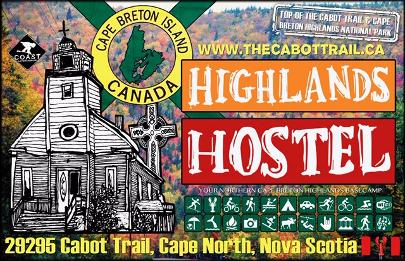 Our Backyard - Our Playground
Yours to explore
Cape Breton Highlands National Park's hiking trails range from easy strolls to challenging climbs with panoramic views of canyons, highlands and seacoasts and our famous Celtic Colours. The trails provide a chance to intimately explore the complex habitat of northern Cape Breton Island. Nature doesn't end at the park's boundaries. Many surrounding areas boast equally breathtaking trails.
All these trails are right on our hostels back and front door step.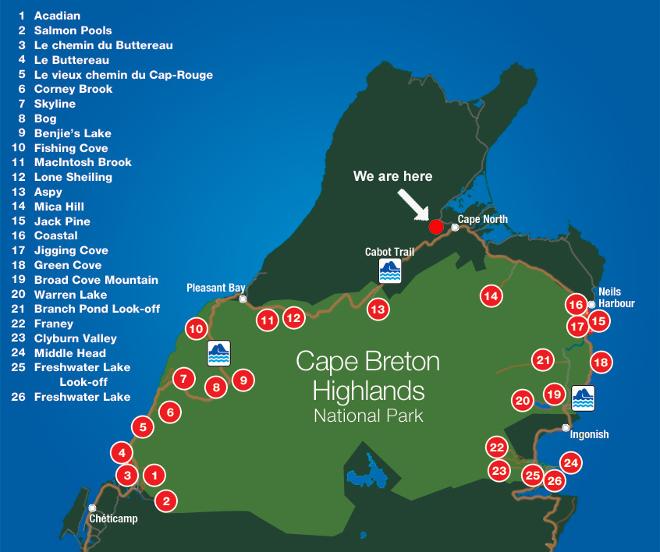 For nine days in October, the island is alive with music, energy and excitement as people come from far and wide to celebrate our rich culture. Since its introduction in 1997, Celtic Colours has grown to become one of Canada's premiere musical events. The festival is held during Cape Breton's most spectacular season when the leaves are turning to vibrant colours, providing breathtaking scenery as you travel from event to event.
While traveling from events why not stay with us at our 100 year old church located at the top of Cape Breton with all the colours surrounding us. The view from our bell tower will take your breathe away..
Hiking Trails in the Highlands National Park
In the Highlands national park we have over 39 world class hiking trails, one of our go to apps for these is "All Trails"here is a link to the all trails website.Or load the app from here They will tell you the degree of difficulty the hikes have so you can measure your skill levels to the hikes, also hikers leave notes on the site to let you know what the trails are like in real time.
Happy Hiking
Remember that you are hiking in a protected wilderness environment.
Do not approach, disturb or feed wild animals.
Hike with friends and a solid walking stick.
If you choose to walk alone, tell somebody where you are going.
Pack in, pack out. Littering attracts wildlife and puts you and the animals at risk.
Stay on boardwalks to protect fragile vegetation.
Mountain bikes are permitted only where indicated, for public safety and protection of the environment.
Dress appropriately. Weather may change rapidly on the plateau and along the coast.
Bring water, especially for longer trails, climbs and open barrens.
Bring insect repellant. Black flies and mosquitoes are common all summer.