We are OPEN
We are now able to welcome guests from all Canadian provinces and territories.
**For ours and your safety please read and follow all the Nova Scotia Covid 19 travel criteria Here
Please phone 902-383-2371 or Toll Free 1-833-381-6553 to book your reservation.
While dreaming of your next vacation, check out our Gift cards.
Stay safe.
Patricia, Bricin, Billie, Cash and Yum Yum.
Highlands Hostel
Please read our updated Covid 19 policies here
Don't forget your face mask when staying with us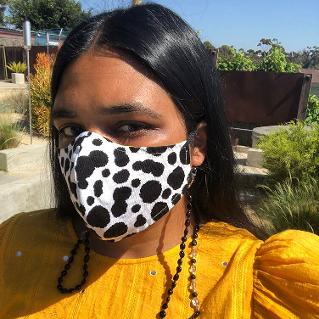 Here's what Val wrote
"This is not just a place to stay...this is an experience! A must do in Cape North!"
Here's what Lisa wrote
The best hostel ever! The owners were amazing, the building and facilities were very clean and it's in the perfect location along the Cabot Trail. The owner was super knowledgeable about the area and helped fill our days with hidden gems. Can't wait to go back!
Here's what Bonnie wrote
"Patricia and Bricin were amazing hosts… their place is truly unique - the location, perfect! I highly recommend… it's clean, affordable and has everything you could possibly need. I will def be back for my next CB hiking adventure!"
Here's what Chelsea wrote
"This hostel is one of a kind, both the environment and the people you'll find in it. I highly recommend it as a place to stay on a trip to Cape Breton Island. You will not be disappointed!"
Here's what Renée wrote
"This was my second stay at the Highland Hostel. It was wonderful before, but even better this time around. The whole family is lovely and I cannot wait to be back to visit and explore some more by the perfect location!"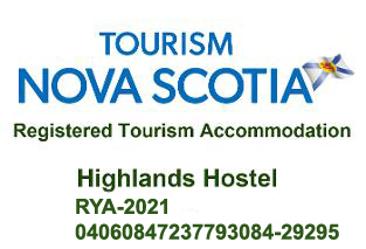 Year round accommodations
Nova Scotia Hostels
We are open 12 months of the year,so you can take in the summer hiking and swimming plus The Celtic Colours,the skiing,snowshoeing , plus many other winter activities.
We can accommodate up to 25 so book your group summer and winter getaways now.
Or traveling on your own enjoy the company of other like minded travelers using Nova Scotia Hostels.
Here's what Tara wrote
Hands down the highlight of my Cabot Trail trip. From riding in the truck to collect wood, to seeing one of the most magical beaches of my life, to playing weird hammer games by the fire - this was the best (& most fun) hostel experience I have ever had. Every request we may have had Bricin & his family went above and beyond - like taking us down to the ocean to collect salt water (for lobster cooking) or playing our favourite tunes looking at the stars. Very clean, SO cool, and fantastic location.
Highlands Hostel - COVID 19 - "Clean it right certification"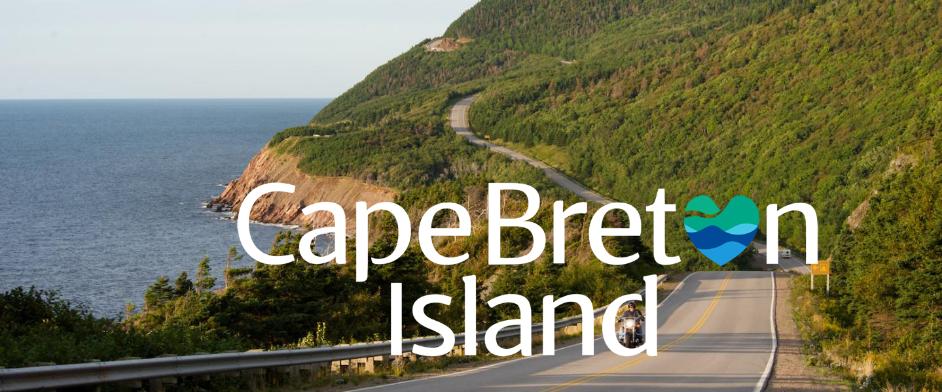 What you can expect in our all seasons back yard
We are often asked,"what can we do in Cape North?", as guests often book an overnight stay on their journey around the Cabot Trail, but once settled in and hear of all the activities we have to offer they often scramble to secure 2 or 3 nights to take in the wonders of the North Highlands.
So be warned, book sufficient time to take in everything we have to offer in the Highlands, plus add a day to relax, maybe use our happy hammocks to relax and plan your next days adventures.
Hidden gems
Don't forget to ask us about the hidden gems that aren't on any visitors information, see the swimming hole and water slide video below.
Mountain bike capital of the world
Look out world we have high aspirations to create a network of mountain bike trails throughout Cape Breton, the start of this should be ready for the summer of 2021, check out our mountain biking page here for more information and progress.
Hostel or Hotel
Check out the difference between a hostel and a hotel and other accommodations available on the Cabot Tail here
Here's what Adam wrote

The hostel is always a magically wonderful experience. It's family friendly and located in one if the most beautiful spots in the world. Spotless, peaceful and a must to check out.
Here's what Kenny wrote

I've stayed in MANY hostels throughout my travels, but this one was the best experience I've EVER had. The owner of this hostel Bricin legitimately wants you to have the best time. He is such a good guy and he is more than happy to give you pointers on what you should see while you're exploring the island. He had a campfire each night I was there (2 nights). I spent an entire day with my buddy (who I was traveling with) driving around the island to see all the places which Bricin had recommended we see. THEN I was able to come back to the hostel and sit around a campfire to wind down! The Hostel itself is so unique, It's an old church that this guy (and his wonderful family) painstakingly turned into one of the most cozy and comfortable spots on the entire island. I mean this quite seriously when I say that this guy could DOUBLE what you need to pay to stay there and it would STILL be worth it. If you have not had the chance to stay at this hostel yet, I seriously cannot recommend this place enough. It will re-define what you expect a hostel to deliver. I know that if I'm EVER up in Cape Breton again that is where I will be staying.
Here's what Carol wrote

One of the best hostels I have stayed in. Bricin and Patricia are warm, funky and so generous with their time.The place is gorgeous and comfortable, it feels like home! You can count on Bricin to find all the secrets that the Cabot Trail has to offer. My only regret is that I only spent two nights there. I highly recommend this Nova Scotian jewel! From Quebec with love <3
Here's what Sarah wrote

"Stayed here twice now and would stay again! Amazing hosts, atmosphere and location :)"
Here's what Courtney wrote

"Loved our stay! We just booked another night for August to do more hiking! Great location and close to all amenities. Very clean and great communication. Thank you for a great weekend!!"
Here's what Chelsea wrote

"This hostel is one of a kind, both the environment and the people you'll find in it. I highly recommend it as a place to stay on a trip to Cape Breton Island. You will not be disappointed!"
Here's what Joshua wrote

"This place is amazing. Beautiful location, incredibly friendly hosts and amazing hostel. Clean, comfortable, and unique...if you're travelling through Cape Breton this is the place to stay. The hosts were incredibly helpful and gave us a ton of tips for areas to explore, eat, and relax. Highly recommended."
Here's what Sarah wrote

"Staying at this hostel was amazing. It's clean, well run, organized and very welcoming. You have everything you need available. We had bonfires every night it didn't rain, and there's a store just down the road. The hosts are so welcoming, easy going and relaxed...it's like staying with old friends that you just haven't met yet. Very highly recommended!!"
Spring
Take in some late cross country skiing and snowshoeing
Enjoy the hikes before anyone else
Travel the trail without the traffic
Summer
Dining: Lobster/Snow crab
Learn how to cook and eat our crustaceans
Cook outs on our local beaches
Swim at our local beaches and our hidden water holes
Hiking: Over 30 world class hikes within an hour.
Local Biking and canoe rentals
Arts North takes you to our local beaches and teaches painting
Zip line: 2 minutes away zip line through the canopy
Whale watching
North Highlands Museum Thursday night concerts
Saturday Cape North farmers market
St Paul light house museum
Our swimming hole 3 minutes away (Hidden gem)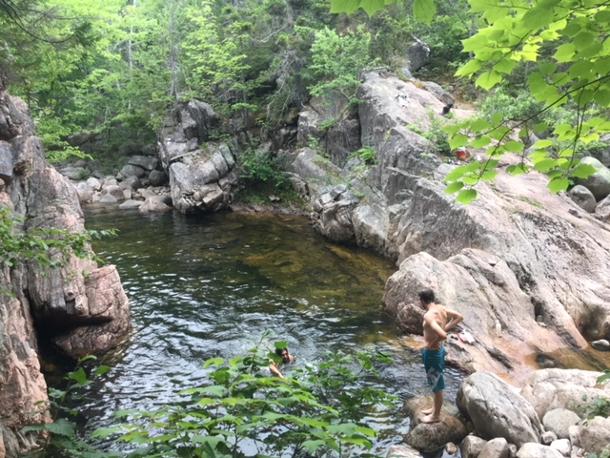 Beach lobster feast 5 minutes away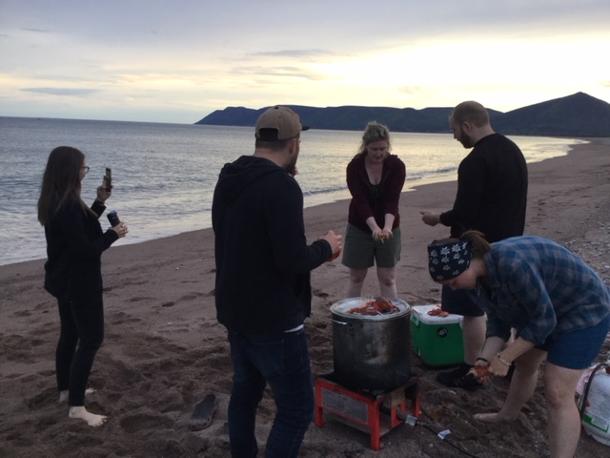 One of our many beaches,minutes away (Hidden gem)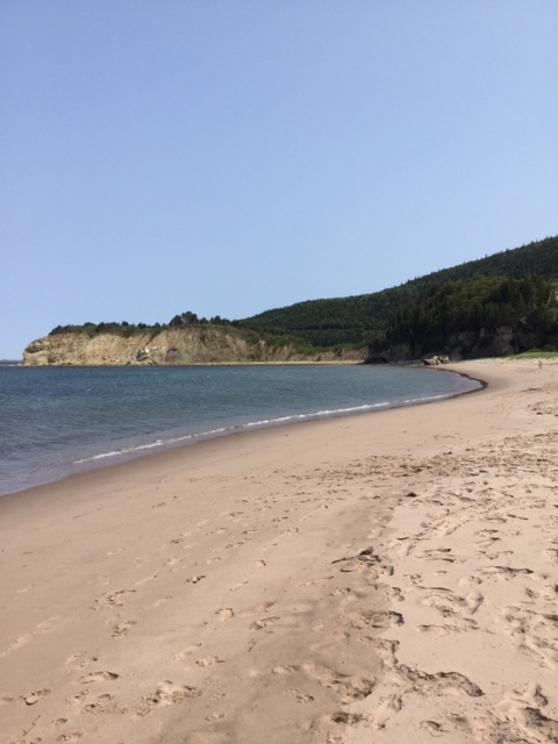 Just one of our hidden gems
After a days activities rest your weary body in one of our many Happy Hammocks.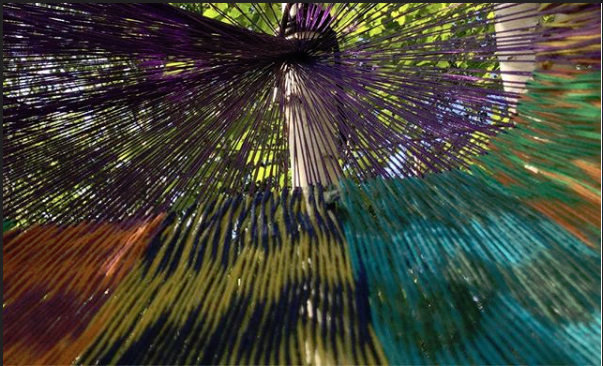 Learn to cook lobster at the fire pit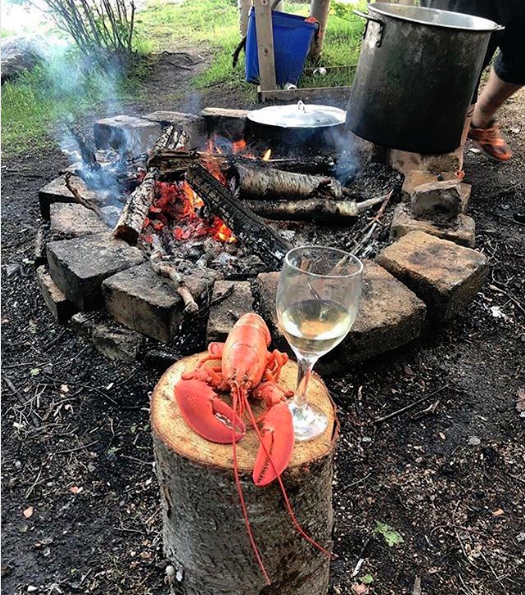 Enjoy one of our roaring pit fires and play a game of Horseshoes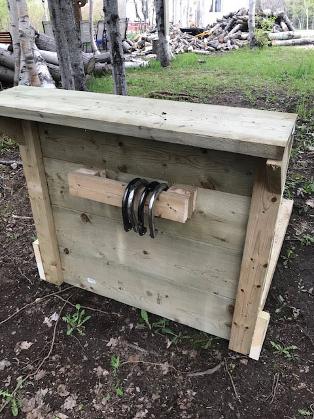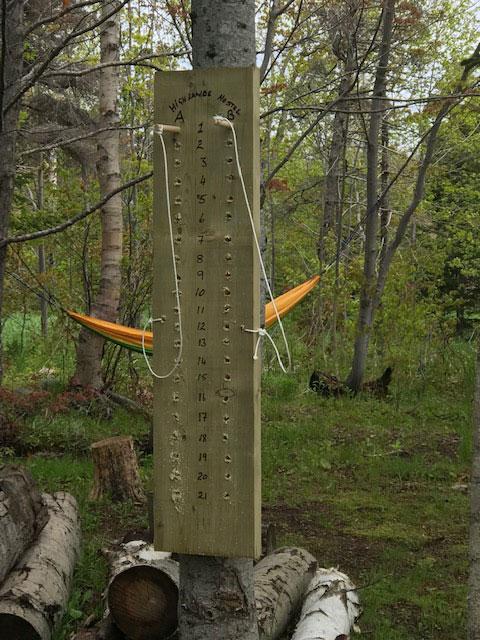 Autumn (September-October)
Celtic colours
Celtic festivals
Hiking: Still time to take in some hikes before the snow
Winter
Cross country skiing
Snow shoeing
Snow Boarding
Downhill skiing
Tubing
Ice fishing
Snowmobiling
Snuggle up in front of our large wood burning fire.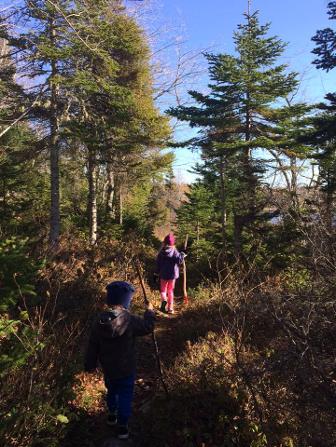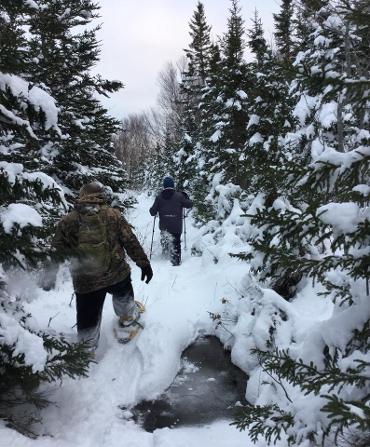 Cycling the Trail
Then make us one of your stops
Aiden and Chandler spent the night with us on a 6 day tour of the Cabot Trail. Well rested,fed and entertained and now ready for the hills to Cheticamp.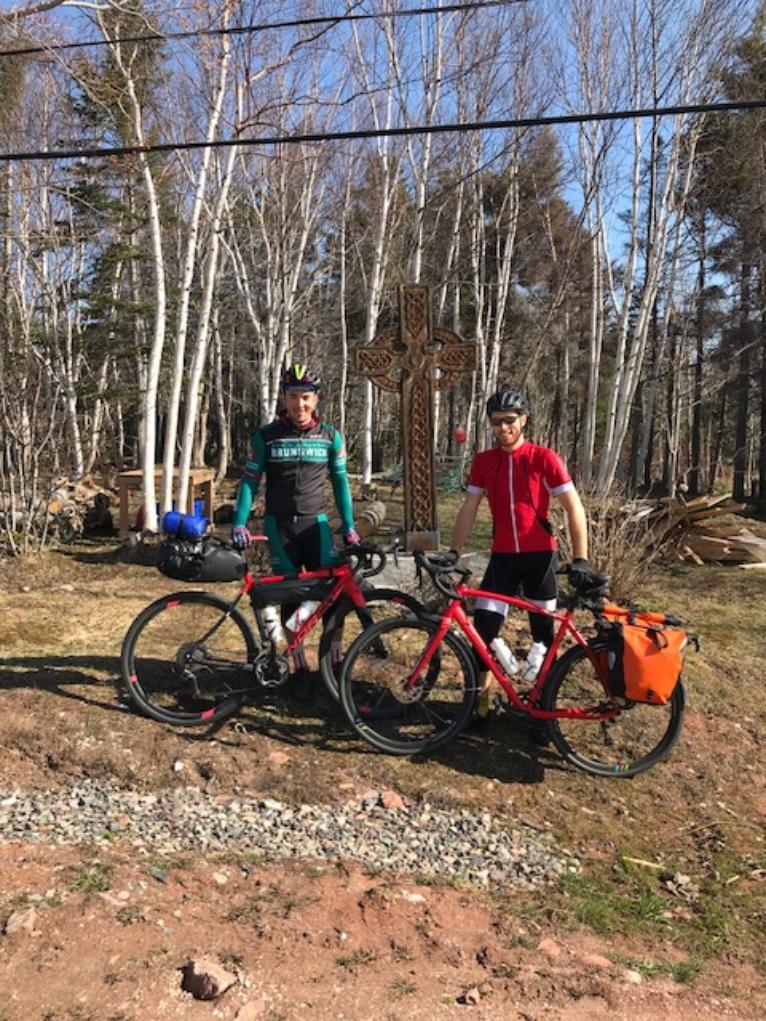 Celtic Colours Road trip
Mother natures kaleidoscope of colours, late September-October, don't forget to take in the view from the top of our bell tower.
Stress relief - By nature.
We truly mean this, everybody is welcome at our family friendly house, backpackers, hikers, bikers, trail bike riders, it is for everybody looking for that place to stay they will call paradise at our Cabot Trail Hostel - The best pace to stay.
If like many you are trying to find a place to unwind and shed the year of stressful city and corporate life, then this is the place.
If you don't go back rejuvenated after a stay with us then we and the beautiful island we live on clearly have not done their job because there is nothing that comes close to the scenery in the Cape Breton Highlands National Park, the mountains are beautiful but what makes it even more majestic is on every turn you see the wide-open Atlantic Ocean. The mountains meet the ocean and along with the sound of the surf, it is breathtaking. There are great walking trails, beautiful sandy beaches (Black Brook is one), kayaking, and an unlimited number of outside activities. The towns and fishing villages along its way are unique and picturesque such as Cheticamp, Neil's Harbour and Ingonish. The Cabot Trail winds in and out of the park and it is a breathtaking drive in the fall when the leaves are changing colours.
So come for a stay and leave with memories that will last a lifetime or until your next visit.
Hotel or Hostel
Why pay for a hotel when a hostel offers you much more, you meet a special group of people, who all have special stories to tell of their travels, you will have memories that will last a lifetime.
Fresh Lobsters or snow crab cookout on our local beach
Fresh Lobster or snow crab (In season) beach boil here in the Cape Breton Highlands!!! These four lobsters were just a snack before we cooked six more for dinner!!!
Can you picture yourself here? On the beach or at our fire pit at the church.

Don't worry we will show you how to cook them and eat them.
When booking your bed ask if Lobster or snow crab are available fresh off the boat, you wont regret it.
COME VISIT!!!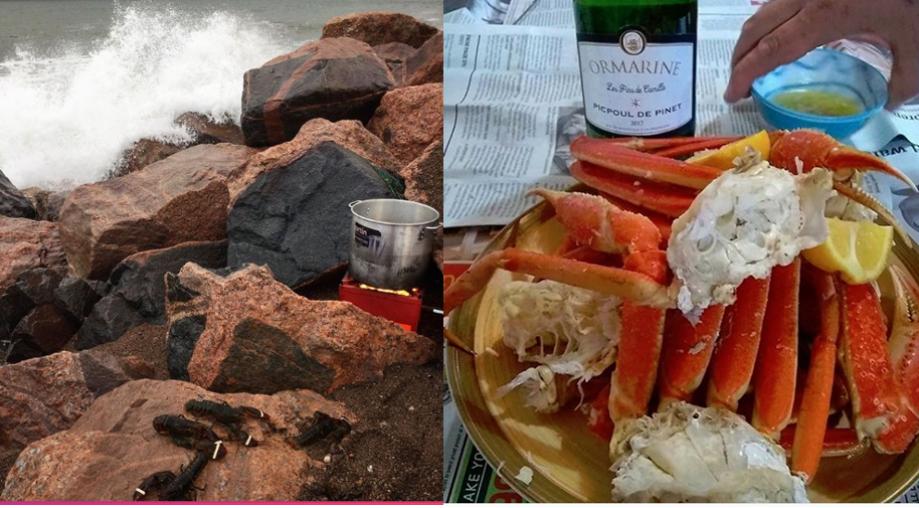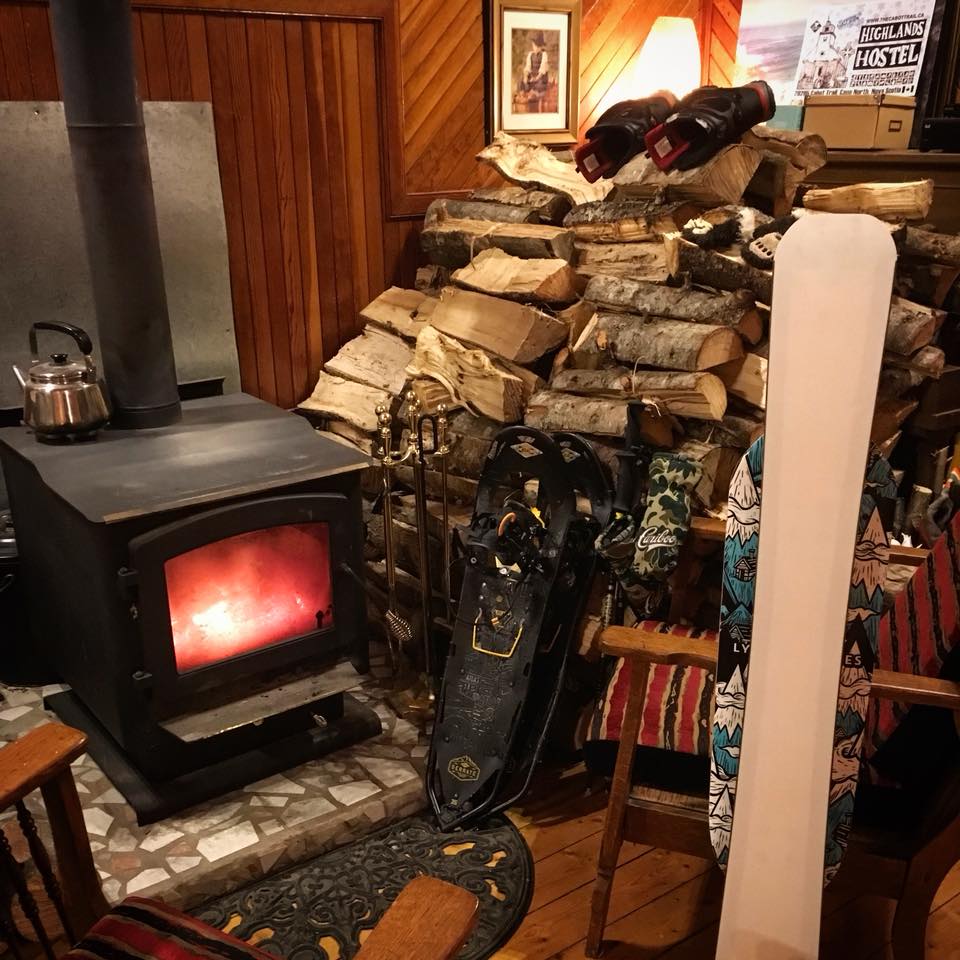 Our Winter wonderland, on our back door step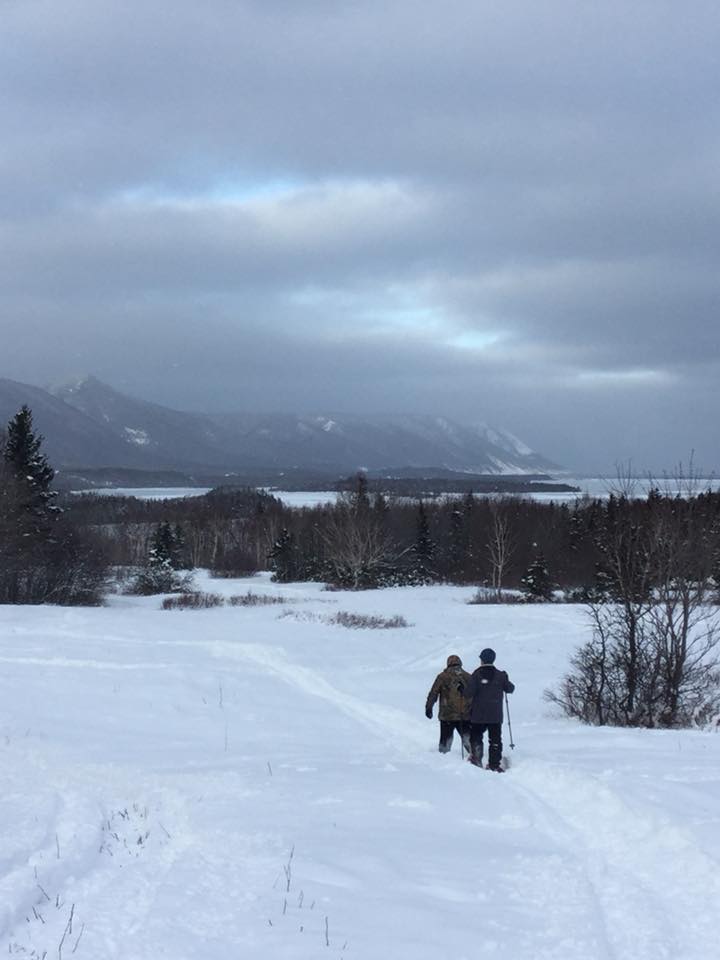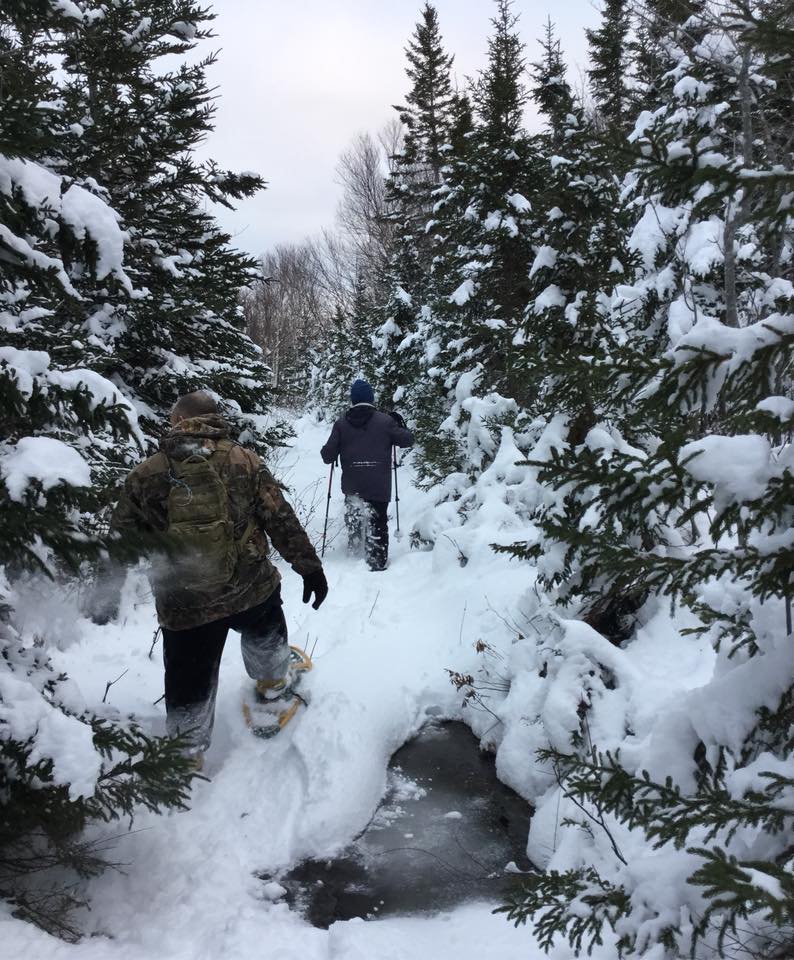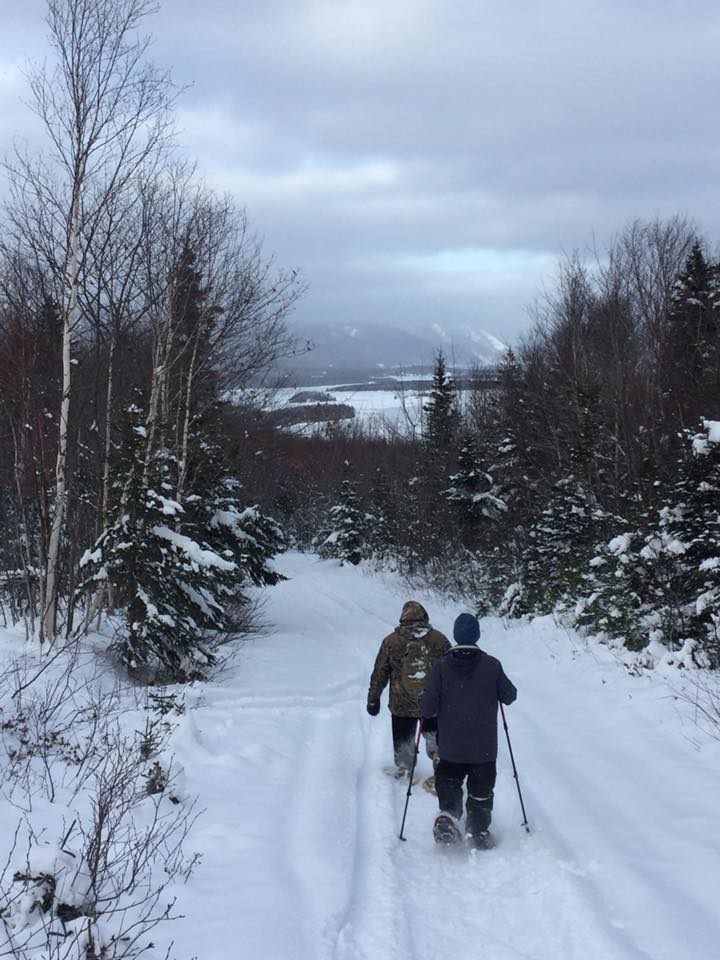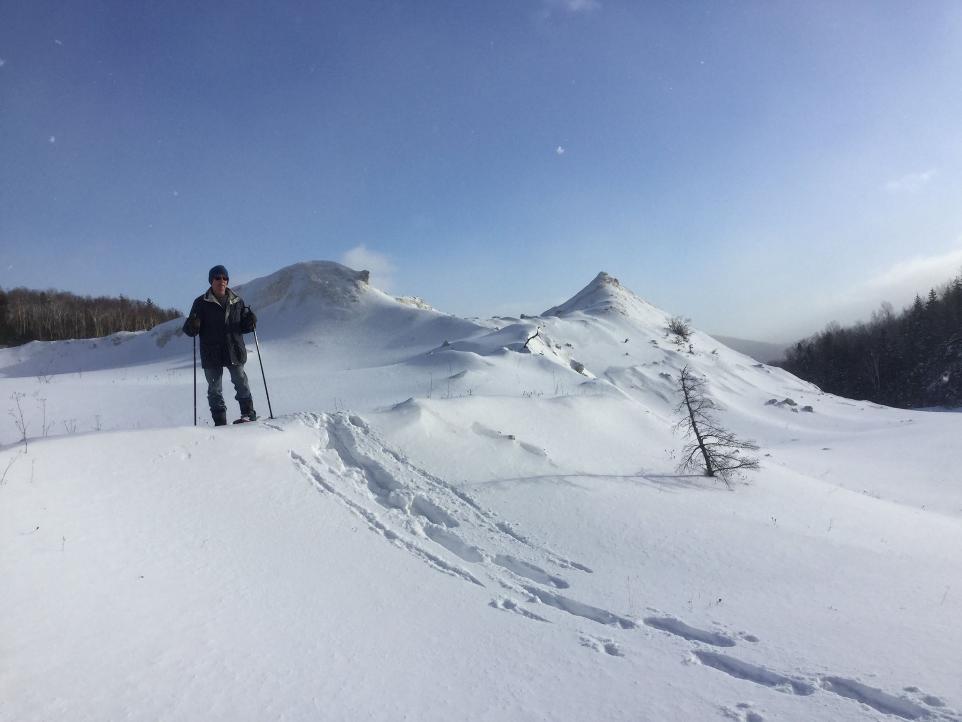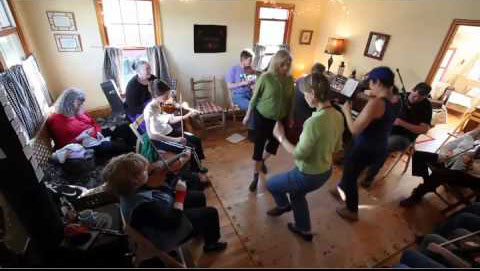 You may be lucky to be entertained by Shawn or Hugh and Hector
The rich history and breathtaking scenery of the Cabot Trail
The Cabot Trail, named one of the best road trips (185 miles - 298 KM) in the world by Lonely Planet, is a trail that winds through stunning landscapes, along the Margaree River, a Canadian Heritage Salmon River, and through spectacular rugged highlands of the Cape Breton Highlands National Park of Canada.

The history of the Cabot Trail is a long and interesting one. The trail was named after Italian explorer John Cabot (Giovanni Caboto) who reached our shores in 1497, sailing on a mission for King Henry VII of England. The name also celebrates the meeting of Cabot and the Mi'kmaq people, the original inhabitants of Cape Breton Island, at Aspy Bay over 500 years ago.

The Cabot Trail, completed in 1932, joined previously isolated fishing villages along an approximate 300 kilometre loop. Today the Cabot Trail connects eight major communities with intriguing histories, ranging from the Acadian Region to Irish and Scottish settlements. These vibrant communities are gateways to outdoor adventures and cultural festivals. Allow several days to explore and experience this magnificent area.
Summer
The Cabot Trail comes to life in the summer. Playing a round of golf or splashing in the surf, there is something for everyone. Wander the villages, hike the trails, enjoy the festivals and explore the living tradition that is unique to the communities along the Cabot Trail.
Still not convinced then check out Explore the Cabot Trail
A visit to the Cabot Trail is a multi-day (3-5 days) experience.
Enjoy our culture, our music, and countless outdoor activities. Participate in our festivals, our special musical events, the ceilidhs, and kitchen parties that happen all around the Cabot Trail. To replenish yourself, enjoy fabulous local seafood at our great restaurants.